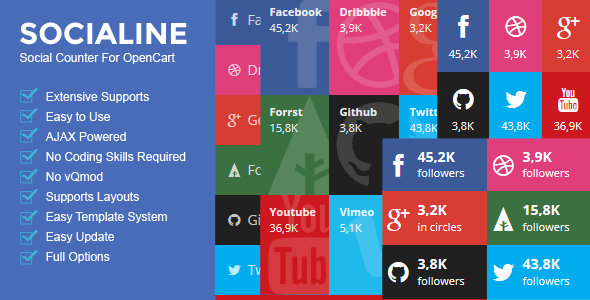 This module comes with a ton of visual options and easy to customize, uses the powerful social sites API for the counter.
Every module is pulled via Ajax call and will not prevent another web element to load.
Built your own counter template(s) with just simple steps, customize the stylesheet, create template animations with jQuery,
share the template to other peoples. Place this module anywhere wherever you like, top, bottom, right or left
or even custom layout.
View the demo here.
Key Features & Options
Easy installation, no hardcoding needed!
Supports Facebook, Dribbble, Google+, Forrst, Github, Twitter, Youtube, and Vimeo.
Front-end and back-end AJAX
Easy template system.
Interactive dialog interface.
Optional automatic update schedule.
Optional kilo K, million M and thousand separator.
Unlimited modules.
Can be used in template.
13+ predefined flat style templates.
Template tags for creating your new template.
Documentation included
Easy to drop into your project
Developer friendly.
And more…
Credits
Bootstrap Framework
Fontello
Font Awesome
Typicons
Zocial
Stack Overflow
Change Logs
1.0 Initial Release
Support and Features Request
This module does not match to your site style? Is this script not quite working as it should?
Having trouble installing? Or need some custom modifications that aren't already included?
Or you want more features on next release? Feel free to get in touch about any of your queries via
profile page.

Source